Our platform has 3 possible roles:
Admin: full rights
User: full rights, but cannot edit the settings of SMS Mailer or Email To SMS
Agent: the same as the user, but he cannot send out any SMS and can be set to have only limited access to Message Insight. 
Attention: If you would like to keep an agent from viewing any reports, you must
1) enter Message Insight > settings and disable viewing message / or numbers for agents
2) deny that specific user access to the product that you are using to send out SMS (SMS Mailer, Message API and / or Email To SMS).  
To change a user's role, you have to be an admin.  Log in to Portal and go to "Users" in the left menu.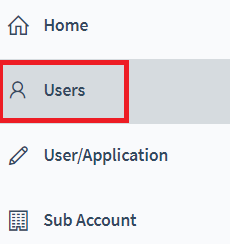 Then find the user which you want to assign a new role to and click on edit  (pencil)

In this screen, you will find the user role.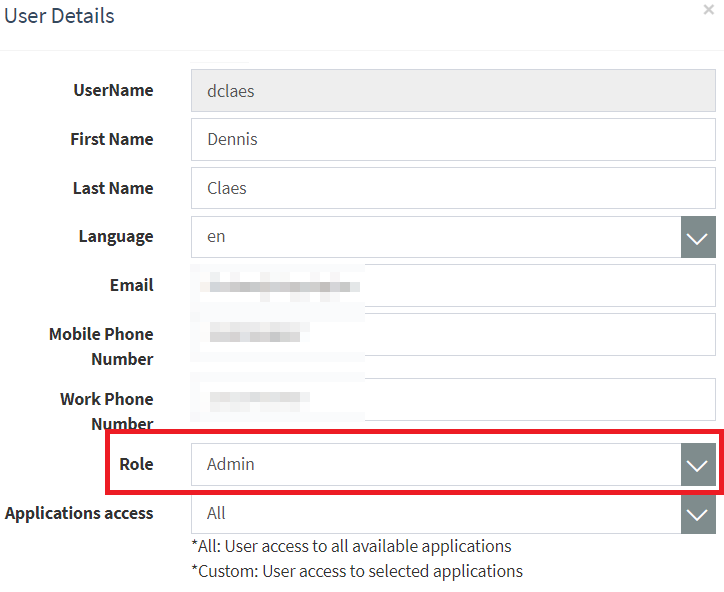 Here you can find a more detailed view of each role:
| | | | | |
| --- | --- | --- | --- | --- |
| Product/addon | Action | Agent | User | Admin |
| SMS Mailer |   |   |   |   |
|   | Create new mailing |   | x | x |
|   | Manage contacts & groups | x | x | x |
|   | View reports and logs | x | x | x |
|   | Create templates |   |   | x |
|   | Create custom fields |   |   | x |
|   | Change settings |   |   | x |
|   | Add notifications |   |   | x |
| Email To SMS |   |   |   |   |
|   | View reports | x | x | x |
|   | Change settings |   |   | x |
| Message API |   |   |   |   |
|   | Full rights | x | x | x |
| Voice API |   |   |   |   |
|   | Full rights | x | x | x |
| Blacklist |   |   |   |   |
|   | Full rights | x | x | x |
| Email analytics |   |   |   |   |
|   | Full rights | x | x | x |
| Message analytics |   |   |   |   |
|   | Full rights | x | x | x |
| Message insight |   |   |   |   |
|   | View messages |   | x | x |
|   | Change settings |   | x | x |
| Message Monitor |   |   |   |   |
|   | Full rights | x | x | x |
| Voice analytics |   |   |   |   |
|   | Full rights | x | x | x |