When sending out messages on a frequent basis, it is important to be notified when messages are not going out anymore. This is especially important when your process is fully automated and nobody is actively monitoring the flow. 
To add a new alert, open you Message Monitor screen and click "Add New Monitor".
The home screen displays all current monitors and their status. This page will allow you to add new monitors and edit or delete existing monitors.
The first time you try to create a monitor, it will ask to create at least one contact.
The Contacts page allows you to easily add, edit and delete contacts to later add them in your monitors.
Once you have at least one contact, you can click on add new monitor to add your first monitor.
Choose "Inactivity monitor" and click "Add" or "Next".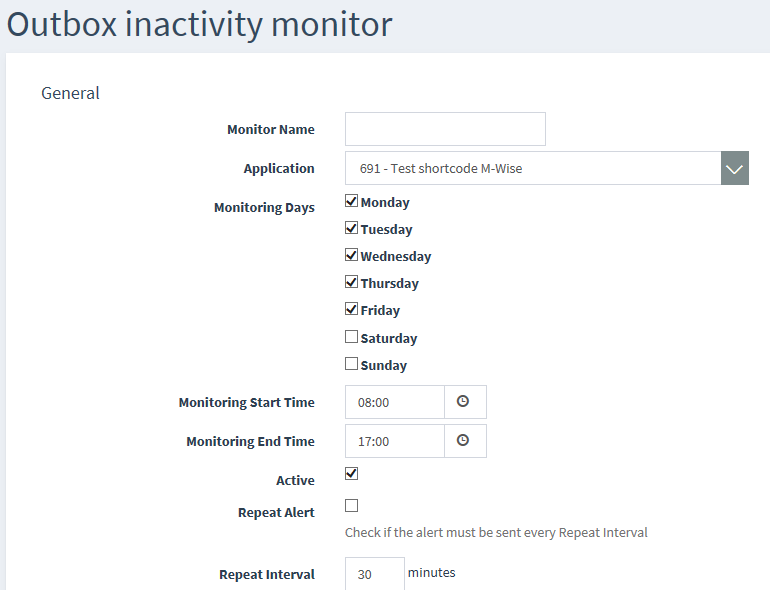 Now fill in:
The monitor name that will be displayed in the monitor list.
Select the application you want to monitor.
The weekdays the monitor must be active
The time frame when the monitor must be active
If the monitor is active or not
If you want to get the alert in continue until it is cleared and the frequency at which you want to get the alert until it is cleared
Define after how many minutes, hours or days of the outbox being empty, you should be alerted.
You must select the existing contacts that will be warned by the alert
Here you can select the channels to be used. Be aware that you are limited to 50 SMS per month
The subject will be used in the email's and the SMS'
In this section, you can define the message content. Placeholders are at your disposal to add extra information
This is the subject for the email's and SMS that will be send when the alert clears and the content of the messages.